Google Maps
is a web mapping service application and technology provided by Google, free (for non-commercial use), that powers many map-based services, including the Google Maps website, Google Ride Finder, Google Transit, and maps embedded on third-party websites via the Google Maps API. It offers street maps, a route planner for traveling by foot, car, bike (beta) or public transport and an urban business locator for numerous countries around the world. Google Maps satellite images are not updated in real time; they are several months or years old.
Google maps is available for mobile phones also. There is application available ofor all sort of phones and free as well. The application is available in the google website itself. but in that case you have to download it from your mobile itself.
here we provide the application setup for download and hence you can download it in your pc and transfer to your mobile.
Symbilan Phones
http://www.ziddu.com/download/16124836/GoogleMapssymbian.rar.html
Android Phones
https://market.android.com/details?id=com.google.android.apps.maps&hl=en
BlackBerry
Go to
m.google.co.in/maps
on your phone to download
iPhone
Tap Maps on the home screen
Other
m.google.co.in/maps
Screen Shots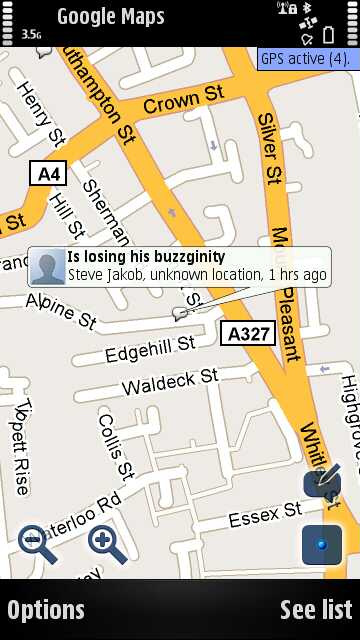 Features of Google maps

See where your friends are right now
See your friends on a map – find out who's nearby and meet up.


Share where you are
Help friends and family stay in touch with you by sharing your location with whomever you choose.


Control your location
Control who sees your location, and at what level of detail.


Privacy settings
Share, set, or hide your location at any time.


Check in

New!


Check in at places to let friends know you're there, gain status, and unlock offers.




Check in with ease

New!


Turn on check-in notifications for nearby places once you've arrived or choose places to be automatically checked in at. See Latitude's settings.


Latitude app for iPhone

New!


Download Google Latitude from the App Store. With background updating, share your location even when the app's closed.


Add the Latitude widget
On your Android home screen, add the widget to see nearby friends at a glance.